I love end of the year recaps. But end of decade recaps are even better. The 00s (or aughts?) have been good to me, this I know. Let's see, I:
Finished/graduated from college, took off to Minneapolis (where I didn't know anyone besides family) to intern for 3M. Two days after 9/11 I interviewed for a job that I didn't apply for and got it.
Without a friend to call my own, I moved into a great house in Kenwood with three complete strangers who became fantastic friends. Some moved out, others moved in and many nights were spent drinking wine, etc.
One job turned into another, friends started marrying and multiplying (in the frozen tundra and other places near and far).
And one such union led me back to Iowa, where I met the Mr. Mr.
Long distance love=new job in Des Moines, marriage, house, puppy, new friends plus loads of nieces and nephews. A whole new family to add to my own. I turned 30.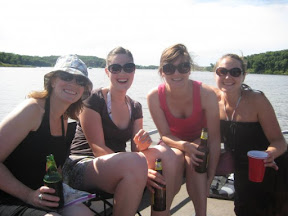 There was much travel, but upon review it looks like swaths of the middle of the US need to be visited by yours truly.
Ireland, England, Italy, Switzerland.
New England + New York, many times for many reasons
Washington D.C and Maryland for Jana's bachelorette and once with Anthony.
Hilton Head, Atlanta, New Orleans were all new and some were visited a few times.
Florida, many times of course.
Missouri and Chicago, lots and lots, Omaha once
Denver was a new place, Montana not so much
Las Vegas, San Francisco, Napa, LA, Seattle were new adventures, visited Portland again
I wish there were more pictures, but I've only had a camera since 2007.
What else? Lots of books and Entertainment Weeklys read. It became easier to just be me and separate myself from notions of who I "should" be. Hawkeye football, tailgating, lots of wine, good times with family and a patented method of packing just what I need and not feeling like I don't have something important on vacation. It's all been happening, and baby, it's been good.